Back Office System Development Procedures
(for ISVs)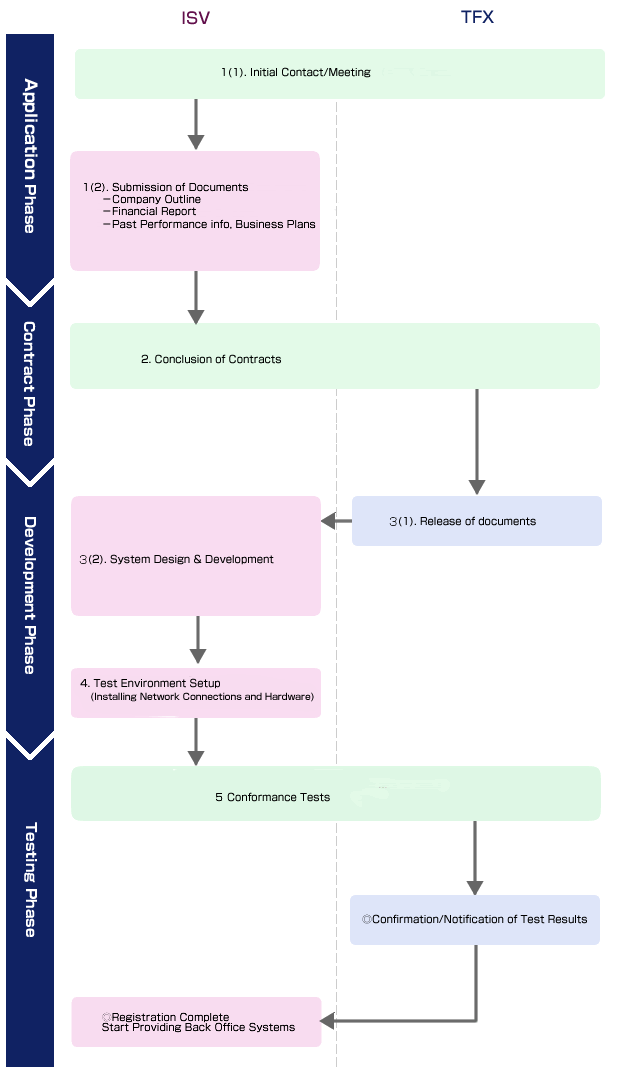 1.Application
(1) Initial Contact ⁄ Meeting
If you decide to become a registered ISV of TFX, your first step will be to contact TFX to arrange a meeting or alternatively a conference call if you are located outside Japan. At this meeting ⁄ call, you will be asked about your company profile, business plan and services you can offer.
TFX will explain the necessary steps for becoming a registered ISV and answer questions you may have during this meeting ⁄ call.
(2) Submission of Documents
Company Profile
Financial Report
Past Performance, Business plans, etc,
2.Conclusion of Contracts
Prior to starting development for the back office systems, you must enter into agreements with TFX.
3.Development
(1)Release of Documents
TFX will release documents ⁄ specifications required for system development including the following:
∗ CLIP stands for CLEARING INTERFACE PROTOCOL which acts as an interface between the TFX Clearing Host and the back-office system of the trading member.
(2)System Design and Development
4.Test Environment Setup (Installation of TFX designated Networks etc.)
In order to gain access to the test environment for conformance testing, the following applications should be completed:
Application ⁄ Installation of arrownet v2.0 network
Application for Use of Test Environment
5.Conformance Tests
After completing systems development, conformance tests will begin.
Upon successful completion of the conformance tests, TFX will confirm and notify you the test results.
After that, Trading Members will be able to use your Back Office Systems without conformance tests.