Our Business
TFX's business platform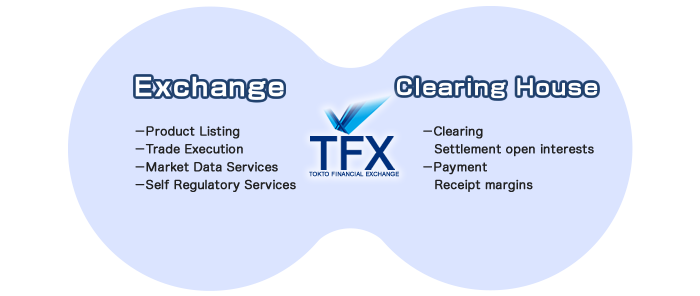 Listing and Operating Financial derivatives
TFX lists and operates various financial derivatives for institutional clients as well as for indivisual clients such as "Click 365" (FX Daily Futures contracts) and "Click Kabu 365" (Equity Index Daily Futures contracts).
Three-month TONA futures
Options on Three-month TONA futures
Three-month Euroyen futures
FX Daily Futures contracts ( Click 365 )
Equity Index Daily Futures contracts ( Click Kabu 365 )
Clearing Business
A Clearing Membership
A"clearing member" is a Member qualified for acting as counterparty in the financial instruments obligation assumption business operated by the TFX.
TFX has been approved as a clearing house under the FIEA and provides the Clearing Business for listed products.
For Clearing Bussines Overview
T-CREAR FX (FX Clearing Futures Contracts)
Entrenched in Japan with support from local investors, OTC FX Margin Trading market in Japan is the largest in the world. To help promote its healthy development, TFX opened a market in May 2021 for FX Clearing Futures contracts ("T-CLEAR FX") as the first milestone from Cover Deal which is associated with OTC transactions conducted vis-a-vis an investor. Wide use of T-CLEAR FX will serve as safety net to block systemic risks (i.e. settlement risk for the market participants as a whole). By applying the CCP clearing scheme to various products one after another, TFX will contribute extensively to sound development of financial market in Japan.
Market Data Services
Providing market data
TFX provides paid information services of each listed products.
Alliance
TFX signed Memoranda of Understanding (MOU) with various exchanges home and abroad